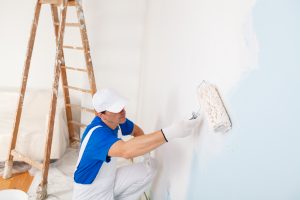 If you want to refurbish your offices, warehouse or other commercial buildings, you should hire the services of a commercial painting contractor. The painter must be one who understands and is able to fulfill all your needs. Hiring a non-professional painter for your interior painting needs is not ideal as they may not be able to deliver what you want exactly.
Therefore, to get the job done well the first time around, you need to hire the services of a commercial painter. This guarantees you quality services that will be worth every penny that you pay.
Below are 5 benefits that demonstrate the importance of hiring a commercial painter:
Commercial Painters Make Use of State of the Art Technology
This will ensure that there is standardization in the output of the paint job. As they have the experience, they will brew quality in the work they do. In this, they will enhance the aesthetic and appearance of your commercial building.
Commercial Painting Contractors Get the Job Done Correctly
The application of color tint is complicated and a non-professional painter will not know how to do it. If coats are not applied evenly, there will be discoloration and mismatched spots. This is why the services of the commercial painter are very important to handle the job as they have the appropriate tools to ensure that the job is done in the right way.
Commercial painters will ensure that they paint in accordance to your requirements.
Commercial Painting Contractors Save Time
The commercial painters know they are in your building to get a job done. They have a set timeline and they strive to get the job done within that stipulated period as a sign of efficiency. The commercial painter will ensure that they do not compromise on quality even when racing against time.
Commercial Painter Also Save You Money
As they have been doing the jobs for years, they are able to advise you so you do not spend much on paint and other materials. They can come to your offices and offer an estimate based on the needed services. Additionally, they can offer advice on the colors that will make your offices look better than they were before.
Commercial Painting Contractors Are Trustworthy
Hiring painters that are not certified can expose you to liabilities and theft. The commercial painters though strangers are certified and have licenses to operate. Their reputation is important and they do all they can to protect it.
American Seaboard Exteriors has been supplying Delaware Businesses with professional and dependable commercial painting contractors since 1977. We have the experience and 'know how' to deliver timely and high-quality results for all your interior painting needs in Delaware. We can handle all types of interior and exterior painting and coating projects; floor coatings, sealer applications, weather & moisture proofing, acid resistant coatings, non-skid applications, sterilized floor applications, and luminescent painting.
If you are in need of any of our commercial painting and coatings services, get in touch.